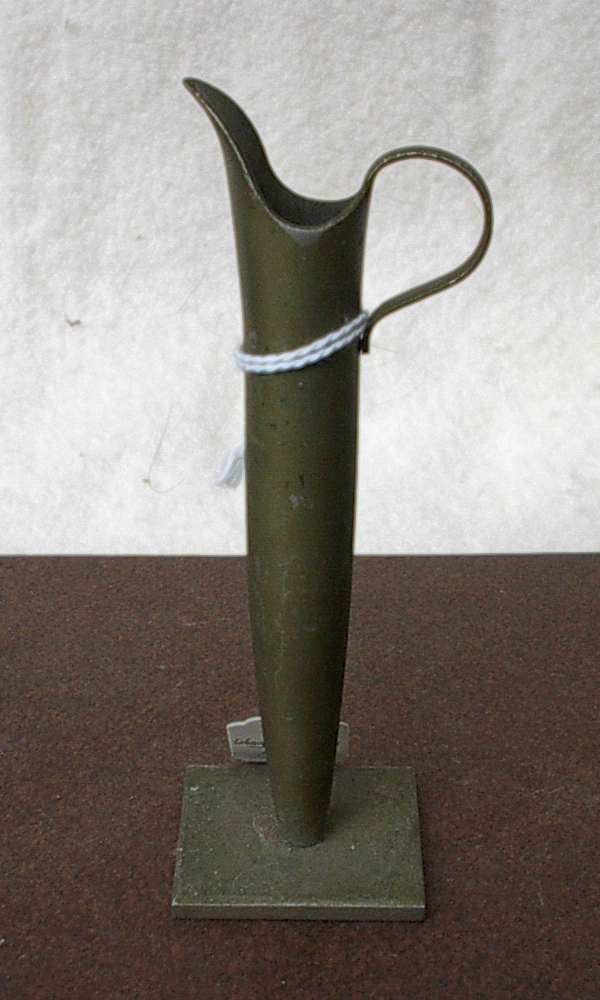 Small metal pitcher / bud vase
Here is a great item aquired from a local estate sale about 5 years ago. It is suitable for a table top or window cill. Looks great where ever you put it or use it. I am not sure if this item was designed to hold a liquid or was made just for looks.

There are NO markings, or printing on this at all, so nothing to identify who, when or where it was made. Unless you use the size info below to reference it to some known maker of small metal vases. It is still a great piece for those who collect this sort of item.

===== Condition: Great =====
Shows slight signs of age, but no dents, scratches or rust. Some of the paint is worn off around the top on the side facing the camera.

Observation: A magnet will stick to the base, but will not stick to the upright portion of the vase. This means, if the base is exposed to water for long enough periods of time, it will start to rust.

It measures 4.625 inches tall and 1.50 inches wide base.


| | | |
| --- | --- | --- |
| Price: | | $12.95 - eBay |
---
Click numbers below to change image size on left.
Width = 400
400 450 500 550 600 650 700 800